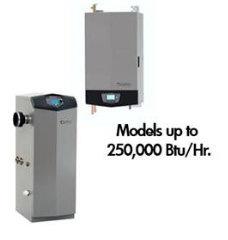 Advanced Negative Regulation Technology:
KNIGHT safely and reliably operates with supply gas pressure as low as 4 inches water column. Negative Regulation (Neg/Reg) technology automatically adjusts fan speed to ensure the correct volume and mix of fuel and air throughout the firing range. Fire Tube Design:
This fully welded ASME Certified stainless steel heat exchanger uses oval shaped tubes to pass heat from the products of combustion into the water stored in the vessel. To facilitate heat transfer the tubes are manufactured with dimples to slow the flue products and extract available latent energy. With a fire tube design the flue products are inside tapered passage ways and the water passed through a vessel. Since the flue products pass through tubes and the water is circulated through a larger diameter vessel a fire tube design allows for minimal head pressure loss through the boiler which allows the boiler to be installed easily into various hydronic applications. Water-Backed Combustion Chamber:
An outstanding feature of the fire tube design is a water backed combustion chamber. By having the combustion chamber surrounded by water the Knight Wall Mount has more heating surface area. This larger heating surface area allows for efficiencies up to 99%. Fully Modulating Burner:
The SMART SYSTEM allows fully modulating combustion with 5:1 turndown. The burner can fire as low as 20% of maximum input and modulates the firing rate up to 100% as demand increases. The burner is a single stainless steel assembly covered with woven steel mesh and fires in a 360° pattern along the entire length of the burner. This allows the compact KNIGHT to exceed the modulation capacities of units with larger multiple burners. Direct Venting up to 100 ft:
KNIGHT offers 5 venting options and tremendous flexibility for placement of units within the building, because it permits direct-vent air intake and exhaust runs up to 100 equivalent feet using either PVC, CPVC or AL29-4C stainless steel vent pipe. A sidewall vent termination kit is standard equipment with every KNIGHT boiler.